Are you cracking up with your regular bedroom life? Do you want to add some excitement and spice to your love and relationship? Well, you can always try some fun yet naughty adult games.  Never Have I Ever Questions for Couples, is one of the spookiest games to play.
Never Have I Ever Questions for Couples: Rules of the Game
How to Play!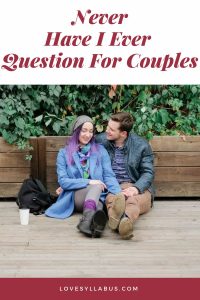 This is the coolest yet kinkiest game for couples in a group to play. An opposite partner can ask the question, and on every "YES" the other partner has to take a sip. You can ask any questions. No doubt you will know for the longest time.
"Never have I ever" game is sexy, short, and crisp. It arouses sexual tension between both partners in a subtler way. Yet you can know them all on a deep level and make them feel more loved towards you.
Never have I ever given you a chance to let the couple know about each other the most. Oftentimes, we miss out on some basic responsibilities that we have towards each other. Romantic and love relations need a lot of effort and care to blossom. We tend to hide our insecurities, thinking that expressing our fear in front of others would make us weak. Never have I ever given you a chance to connect with your partner on a deeper level.
There are a few sections in the game. That will ensure and check compatibility.  This is a fun game to start the first initiation if the couple is just new to each other. We know you want to know all the secrets of the person whom you like the most.
They can be your girlfriend, boyfriend, spouse, or even your crush. So let Begin take the journey to some new and spicy questions that will make your night memorable.
Never Have I Ever Questions for Crush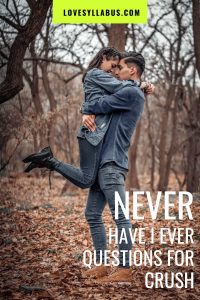 Let's start with a subtle and sweet section of Never Have I Ever Question for "crush". To all the people out there, who are all shy babies, and introverts inside and out. We have a solution for you. We hear you and we are here to help you. You saw your crush in middle school and from then, you are all head over toes about them
You think about them all the time and You get butterflies in your tummy every time they cross you. And You get goosebumps every time they text you. But you shy baby, you are a little awkward facing them.
It's now time to get over all your shyness and get glowing in front of them. Show off your artistic side to them.   know their likes and dislikes.  you can know how they feel about you,  just by playing and asking those simple questions.
Here we provide you the top 5 Never Have I ever questions for your crush.  That will make them wonder more about you.
Never have I ever checked you out?
Curious to know what your crush thinks about you? Then plan a fun night game with him and start playing the " Never have I ever game" to know what he feels about you. After you ask this question, you can have a cool time discussing how and for when they started checking you out.
Do they like you in your off-white loose funky sweatshirt more, or do they prefer you seen in the Little black dress? Have a cozy discussion and drive into the passion even more.
Never have I ever thought of proposing to you?
This could be a very promising question when asked to your man of dreams. You imagine him all day and night. You think of proposing to him, going on dates. Drinking coffee together. Doing a Netflix and chill session together. But never really gathered the courage to ask him upfront.
So here is a simple question that can break the ice between you two. And make your game go high to points. Gear up all the courage to ask your crush "Never have I ever thought of proposing to you?
Never have I ever wanted to just Netflix and chill?
This is a quite fishy question to know your crush's intention. Is he just a random next-door guy who just wants to chill and have some casual time? Or a serious high school sweetheart who wants something serious between you.
Asking this question may be fun but it implies his true emotion towards you. If you are okay with a casual relationship then what's better than this?  But if you want them for a serious commitment, then do let them know. That there is no time to hurry. Sit together, experience the excitement.
Never have I ever wanted to kiss you?
Never have I ever wanted to kiss you? Yes, you heard that right and your baby girl needs to ask it your crush. Oftentimes when you both feel sexual tension going on all around, and you feel awkward to express.
The above-said question could be fuel to the fire. If you want some steamy and hot smooches between you, break the ice by asking him the above question. And get ready to enjoy some quirky makeout sessions.
Never have I ever got jealous seeing you with another chick?
Want to come straight to the point? Or is your crush tough to handle? We got you. Talk about all the sweet past memories you had with your EX. Talk about how attractive your Ex was, how you used to have a long drive, go camping.
Tell him how much you adored his big biceps and loved wearing his T-shirts. And then see his reaction. We are very sure he would have gone burnt up till now. Ask him the "never have I ever got jealous seeing you with another chick? " And enjoy his adamant yet cute answer.
Never Have I Ever Questions for Boyfriend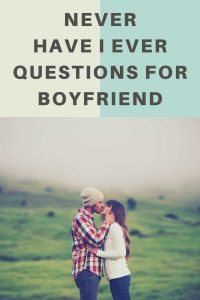 Man loves challenges. The more you challenge them, the more excited they get. Challenge your boyfriend to play this fun and kinky game that would make them throw all the secrets out.
Ask him something you always wanted to know about him. And keep a reward after they answer your question. A man will never tell you something. which may bring some unnecessary disturbance into your relationship.  hence sometimes they try to keep the worries away.
But before beginning the question, let us tell you. This is a simple game and you need to keep it light and chill. Do not overpower or try to pinch them over a question again and again. Take this game in a fun way and know your man's skin deep.
Allow him to be comfortable in front of you if he wants to, share all his thoughts, and open up a bit. If your man loves you, he would answer everything in a jolly way. So let's dig into some of the spooky questions that all girlfriends want to know about their man.
Never have I ever lied to you?
In a serious relationship, there are times where we hide all our insecurities and fear. We tend to hide some of the fundamentals that the other half needs to know. Talk about his fears and insecurities. And make him understand that no matter what you would always love and respect him.
Be very soft and ask your man about the question, and don't force them to answer it. Tell them that you trust them and they need not lie to you anytime. Make them all settle up with some wine and listen to them very carefully while they utter you the golden truth. 
Never have I ever checked another woman in my girlfriend's presence?
We are very sure, this is the most desirable question you always wanted to ask your boyfriend, but never have you. Take this as a chance and as them the fussiest question a man would be so adamant to agree. Ask them about their preference and have a chill discussion. Well, you can throw some tantrums if you want to but, remember that this is a light game to play, and just chill it up.
Never have I ever hidden a dirty secret from my girlfriend?
Well, this could be a risky question to ask, if you want to make it nasty. If you are ready to get some spicy updates and handle them, then we would ask you to handle them at your own risk. They say men keep more secrets than women. You can ask your boyfriend about this spookiest question and know the answer.
You need to know the reason if they tell you some secrets. It is okay if they have some dark dirty past, you got to move on. But if they confess to you some nasty secret that involves your trust in it. Then we would suggest you talk.
Never have I ever wanted to break up with my girlfriend?
Ready for another heart throbbing question? We already warned you this game is fun yet can be risky in a good way. Likewise  " Never have I Ever Wanted To Breakup with my Girlfriend".
The question can be a little heartbreaking if the answer comes "yes" I have. But obviously, you need to hear it. Understand their sentiments and most crucially you have to respect them.
There are often times when we neglect the most important time of our relationship. Or take them for granted. Listen to them very carefully. For the reason they give. Tell me how bad you feel, and you are truly sorry for it. Remember, a relationship is teamwork. You both need to put effort into making it successful.
Never have I ever stared at you while taking a shower?
Another cute yet sexy question you can ask your boyfriend. This is great Never have I ever couple Questions for all the newbies. When the love and its sweet romantic phase has just started to take control of your life. Where all you want is to spend more and more time together.
You have seen your boyfriend who tries hard to avoid a glance while you take a shower. Ask them this question, and let them know what you think about it. Let him know that he can join you in the bathtub for hot and juicy bath time.
Never Have I Ever Questions for Girlfriend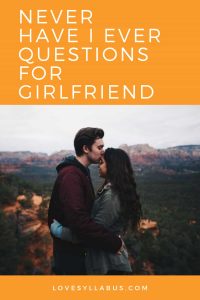 If you are considering playing a game at a house party.  Or while spending some quality time alone with your girlfriend. Then you can prefer to play this game. This is a classic game.  Where you can question anything about their personal life and they have to answer it with a yes or no.
You can have a long night talk about each other's experiences, thoughts, and views about life. You can share some of your dirtiest secrets and get even more comfortable with each other. Express your love and tell each other the sweetest things you can.
But before beginning the spookiest question, we tell you to be calm and poised during the game. Keep it all bossy and classy. And trust your GIRLFRIEND if she is genuine from the heart. Don't doubt her, or create a fuss as it can lead to some serious disturbances. Explore the fun questions and have a juicy yet seductive fun night afterward.
Never have I ever tried to make you jealous intentionally?
You know this is a very cute question, you can ask your girlfriend when she is all alone and looking into your eyes. You can pull her towards you and ask the question very slowly into her ears. She would deny at first, but you know the answer better. You will enjoy that cute and romantic moment together a lot. You would be surprised at how cute your girlfriend could be to grab your attention. Do not forget to give her lots of kisses and hugs after the game gets over.
Never have I ever checked my boyfriend's phone in his absence?
Ahem, Ahem! Your girlfriend will never admit that she is a little detective in your house. She keeps all the records of where you are headed, whom you talk to. And boys, let us tell you your girlfriend follows you everywhere. She loves you, and that is why she is curious about what you do and what you don't.
At times she could be a little suspicious. Check your phone and ask you some weird questions that you didn't expect to hear. So take this chance to ask your girlfriend this tangy question, and see what our reaction is.
Never have I ever checked my boyfriend's best friend?
Do you want to be a little kinky with your baby girl? Have your girl checking out your Gym buddy? Ask her about what she likes and dislikes in a guy, know her personal choice. Tell her that you can be the one she is looking for, and give her some sweat she wants in her life.
We all have some desires and fantasies that we suppress in it. Ask her some of her wildest desires and let her take you to heaven.
Never Have I Ever Romantic Questions for Partner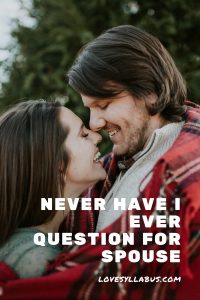 Relationships are best when expressed, understood, and accepted. Oftentimes we neglect our loved ones due to the hectic life we choose to live. We take them for granted, never really respect their efforts. Especially all the homemakers. Your better half does a lot of work and gets nothing out of it.
Have you ever thought of how depressing their life could be? We would tell you to add some spice into your relationship and make them happy. You can have a fun dinner date and play soft romantic games like " Never have I ever".  So grab a glass of your favorite wine with some cheese and chocolate. And enjoy.
Here are some of the questions you can consider asking your better half.
Never have I ever found someone like you?
Never have I ever thought of someone else while making out with you?
Never have I ever felt worthless in my relationship?
Never have I ever felt unloved?
Never have I ever felt the special connection with anyone else rather than you.

Never have I ever thought of taking a "me time break"?
We know these questions are serious as hell and can make or break your mood. But it is your priority to keep your spouse happy and make them feel loved and wanted. Love isn't a definition of all the fun you do in the bedroom while the lights are off. Sometimes you can find peace just by sharing emotions.
Marriage is a bond where you need to be the eternal team. You work together, laugh together, cry together, share uncountable memories. But in the long run, some way or the other gets neglected. The charm gets suppressed and the desire to burn for each other extinguishes. You get busy with family and forget to take care of your emotions. On those sensitive moments. 
Trying to spend some private yet quality time with each other can help you feel rejuvenated. Asking some simple and deep meaning questions like " Never Have I ever lost myself in marriage"? "Never have I ever thought of quitting?" can help your partner open up about their inner anxieties.
Never Have I Ever Dirty Questions for Lover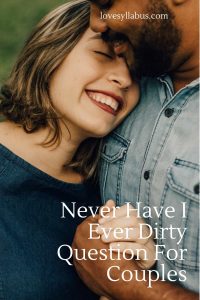 Hey so you want a crazy night ahead, won't you? So get wild with the never have I ever couple game, that makes you and your partner go crazy over each other. But before that, there are some different sets of rules that you need to follow.
The question goes like " Never Have I ever..?" and the other person needs to answer it with "I have". Or  "I haven't". The person with more number of I have, wins.
The person who wins gets to ask the other one to do whatever he wants. He can ask them to take their shirt off one by one. Or can demand some Frenchies to get the heat build-up.
Here are some of the dirty questions you can consider asking your babe for the wildest night.
Never have I ever role played?
Do ask this question to your partner, and get to know their fantasies. Ask what they want to be for you? A hot blonde teacher, classing wonder woman, a sexy redhead nurse.  or just the random next-door neighbor. Have a great time involving each other in this hot and steamy activity.
Never have I ever tried seducing you?
Intentionally if they have.  Then we would ask you to dare them even more while you sit and enjoy the striptease they do to you.
Never have I ever sexted?
The answer could be common yet sensual. It will allow you to know your partner's skin deep. Everything that resides in her and gives her. Speak about your sexual preferences. Know what she likes and what she dislikes. There are other bonus questions you can add to make your night more pleasurable.
Never have I ever had a threesome?
Never have I ever said the wrong name while making out?
Never have I ever made out in a public toilet?
Never have I ever approached someone of my same-sex?
Never have I ever had a one night stand?
Never have I ever asked someone for dirty pictures?
End Note
This is a great way to amp up your quality of life and make you and your partner feel secure. Life could be boring at times and to add some spice and zest you need to take a few steps and give some effort. Organizing fun dates.  Going out together for movie nights, talking to someone for long nights can be a memorable time in your life. And adding some fun games like "never have I ever" can make it more sensual and romantic.
Keep visiting this space for more content on Love, Romance, Dating, Relationship, and tips on Couple Issues.