"YOU ALWAYS GAIN WHEN YOU ARE DEVOTED, AND YOU ARE MOST ALIVE WHEN YOU ARE IN LOVE."
A relationship or connection is a beautiful bond that two people share when they are in love with. It shows us how to love and be in love. They are often timing the glue that holds us together during our ups and downs; it also assures us that yes, we have someone beside us who will stick by our side whenever we need them.
"CONNECTION BETWEEN PEOPLE IS AN ENERGY THAT EXISTS WHEN BOTH FEEL SEEN, VALUED AND HEARD; WHEN THEY CAN ACTUALLY GIVE AND RECEIVE WITHOUT JUDGEMENT; AND WHEN THEY DERIVE SUSTENANCE AND STRENGTH FROM THE RELATIONSHIP."
A real relationship is when you love somebody so much that nobody else is attractive to you. It is like an attachment you have with that person, making you want to climb mountains for them to make them happy. It is that precious bond that your mind desires, and your body crave to wanting it to last forever. This closeness ultimately moulds your life and changes you into a person whose heart sets on fire every time you hear their name.
But before entering into a relationship, ask yourself, are you ready to be in one?
To be in a relationship, you have to commit yourself to another person and take responsibility on your shoulders that you are ready to stick with them. But if you think this as a burden, then don't be in a relationship because you will end up breaking their heart, and it is not your heart to be dying, so you should leave them alone.
So now the real question comes to what things we should look for in a relationship with our partner?
Well, the most important thing that we should look for in a relationship is HAPPINESS.
What is the point of being in a relationship if you are not happy with your mate?
This doesn't mean that you burden the other person with the responsibility of your happiness. You can't give them that power because nobody can take that responsibility for an extended period. At some movements, they will let you down, and that's where the relationship starts suffering because you put that pressure on them.
You matter—your happiness matter in the bond you share. A healthy, reciprocated love with another person appears to be the critical predictor of happiness.
12 Things to look for in a relationship with Him/Her
You need a Relationship where YOU CAN BE YOURSELF.
Are you really in a real relationship where you have to pretend to be someone else?
I guess not. In a relationship, you want to just find someone who likes you. It's important "that you can just be you" and don't need to feel like you need to "take an aspirational avatar" — you should be able to show up and be as vulnerable as you want to be.
2. Be with someone who DOES NOT LIE.
Suppose someone lies in a relationship about something, the spark of the relationship vanishes. In that case, it is like you can never look at someone or trust them the same way because we see them as a completely different person, and after that, you lose all your faith in them, which makes the relationship suffer.
3. Look for somebody who is a GOOD LISTENER.
Someone who is listening to you cares about what you have to say and what matters to you. When someone you are dating can recall details that you did not even think were important from past conversations, make you feel outstanding and good about being together. It feels like we are on the seventh cloud when somebody pays so much attention to us.
4. You should date someone who is ready to make COMPROMISES FOR YOU.
The ability to feel that compromising is a crucial component of any relationship. You make these compromises out of love and because you don't want to lose the other person.
An urge of unwillingness to compromise or see things from another's point of view would eventually breed discontent and cause that relationship's demise. So, look for someone who does not always have to be right.
5. Be with someone with whom you can SHARE SILENCE.
Silence is a good sign of COMPATIBILITY.
If you and your better half can experience silence together without feeling freaked and worried that something is wrong or – an even more giant red flag – feeling bored, then that is a good sign you can stand side by side on life's unpredictable journey. 
6. ACCOUNTABILITY is also Crucial in a Relationship
Accountability comes from trust. Acknowledging your contribution – meaning what you say and do – is what defines responsibility. No matter what, you need to look for a partner who can show up and own their stuff.
Another essential thing includes the GENUINE INTEREST of the person in you, your family, health, and everything.
If the other person doesn't care about you, do you think you're with your Mr Right? A simple act of kindness like asking 'Have you reached home safely?' can make a big difference because this shows how much the other person adores about your presence in their life. And these small things make you happier as compared to all the expensive gifts you exchange.
7. Giving each other "THEIR SPACE" basically "PERSONAL SPACE" is very important for any Relationship.
Having your "me" time apart is extremely healthy and keeps freshness in your relationship. It means you are taking time to put yourself first and make things that are just for you- choices that will make you feel great about yourself, putting you in a better mindset to take care of your relationship. It also fosters independence and strength rather than neediness and clinginess.
8. Look for someone who can EXPRESS HIS LOVE.
Many people feel shy about expressing their love, which is okay. Still, a small gesture like complimenting your partner, writing letters for them or saying positive things to them is much more beautiful than any other thing as these little things make your partner feel wanted. It shows that you matter to them, and you are a priority for them.
Look for these signs to know who is really interested in you.
9. One thing you should look for in a relationship is CONFLICT RESOLUTIONS SKILLS.
People are great at communicating the warm and fuzzy stuff. But when it comes to working out the kinks and differences of opinions that lead to unpleasant fighting, most folks get stuck. You should make sure that your partner develops the capacity to tolerate a different point of view other than his own and even find it completely cool to accept that it is okay not to agree on the same things every time.
10. You should be able to CELEBRATE YOUR DIFFERENCES.
If you are not saying something because you think your date would not like it, you need to say it, so you can see what happens when you disagree. Fights are occasionally necessary for every relationship because that is how you learn to handle disagreements and work together to come up with a solution. It is the essential aspect of a good partnership. Else you are potentially throwing yourself in a snake pit.
11. SAME SENSE OF HUMOR is another critical aspect of relationships.
It would help if you looked for someone who laughs at the same jokes and finds the same things annoying. Even if you like a person who does not match your humour, you would not be able to enjoy each other's company as you will have a voice in your mind that will control your real thoughts from coming out of your mouth. You will not be able to do that for an extended period, and it will also start weakening your bond.
12. Be with someone who is AFRAID to lose you
What if you're not having a fear of losing your mate? Ask yourself if this is actually what you're looking for?
My answer would be no because just like pain makes one feel alive, fear makes a relationship real. I don't think you should be with someone who does not appreciate your presence or who doesn't give a damn about you being in their life because you will eventually end up losing them someday. Instead, look for someone who appreciates your presence, look for someone who not only have a fear of losing you but also wants to be with you for eternity.
These are some of the qualities and criteria to look for in a longterm relationship. Some of the top things to look for in a deep relationship can be Honesty, Willingness, Trust, Commitment and Emotional Support.
Values and Qualities to look for in a Relationship with Life Partner
"We waste time looking for the perfect lover, instead of creating the perfect love." Love is perfect when you have the best feeling of waking up with someone rather than sleeping with them.
You should look for someone who understands your pain, who makes love to your scars, he makes you forget about all your flaws. A person interested in YOU and not in your body, with whom intimacy is not purely physical but an act of connection so profoundly that you feel like you can see into their soul.
We always look for one perfect match who will still fulfil our expectations and will be up to the mark for us. But is it actually what we should look for?
There may be no such thing as a perfect partner, but an ideal partner can be found in someone who has developed themselves in such a way beyond looks, charms and success. We can trust a person to share our whole life with and are ready to grow old.
The Desire for Real Love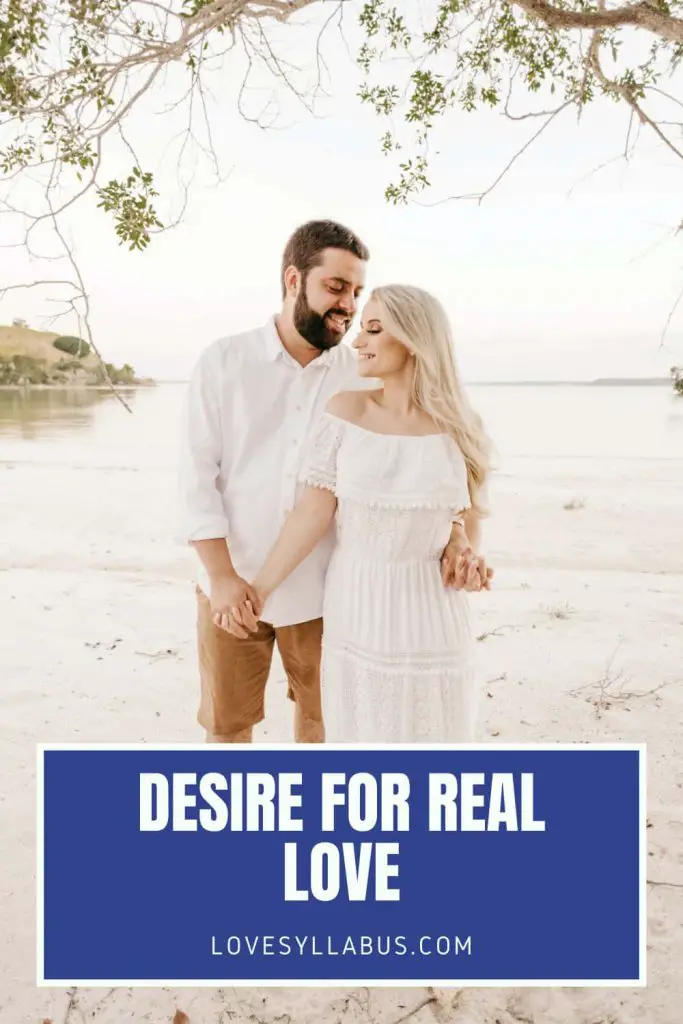 THE MOST AWESTRUCK KIND OF LOVE IS WHEN YOU DO NOT NEED EACH OTHER WHEN THERE IS NO GREAT DEPENDENCY ON ANOTHER PERSON; THERE IS JUST ADMINISTRATION, THERE IS RESPECT, COMPANIONSHIP, AND WHEN THERE IS SPACE OF EASE BETWEEN YOU. THIS COUNTS AS A REAL RELATIONSHIP THAT EACH AND EVERYONE DESIRES TO HAVE IN THEIR LIFE.
Every human being's greatest desire is to be loved by someone. They look for the ultimate love from their partner, boyfriend and husband.
Conclusion
To conclude, I would want to give a little bit of advice to those who wish to maintain a truthful bond or connection with their other half.
It would help if you always remembered that there would be times when you would not want to be in a relationship, but remember you can work through anything as long as you are not destroying yourself. That means physically, emotionally, financially or spiritually.
"A true relationship is two unperfect people refusing to give up on each other."
So always know that if you are looking for a healthy, long term relationship, you will face different emotions every day, sometimes optimistic, sometimes cynical.
You have to keep cherishing these positive emotions and fight together against the negative thoughts because, in the end, this is the choice you made yourself. It would help if you did not give up until you are entirely done not to regret your decision later.
Love is a challenge. It's meeting someone who pushes you to be more generous, more significant, and brighter than before. It's finding someone who you see fighting battles with, and for. And It's discovering that your life was incredibly full-back, but falling into them has made it even more complete somehow.
SO TRY TO FIND THAT SOMEONE SPECIAL, STICK TO THEM, MAKE THEM HAPPY, BE HAPPY AND ENJOY LIFE BECAUSE, IN THE END, WE ONLY LIVE ONCE.