When you have a crush on someone, it is one of the best feelings. The sight of that person makes you excited. Your stomach feels the butterflies, and your heart starts racing. All you need is their attention and a chance to talk to them. You admire everything about them, the way they smile, the way they walk, the way they dress, and whatnot. They are perfect in your eyes and you daydream about them being yours. So it is obvious to think if you can impress your crush?
But dreaming alone won't make them yours and you definitely need to make a move. If you are struggling with the right way to catch your crush's attention, we can help.
24 Smart Tips & Tricks on How To Impress Your Crush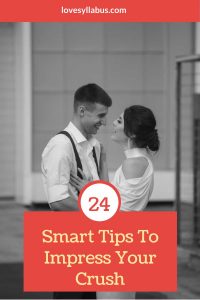 Here's a look at some simple ways on how to impress your crush and make them like you:
This goes without saying. Confidence attracts everyone! You need to be comfortable in your skin and be proud of who you are. In the quest of impressing your crush, you need not change yourself.
You need to accept your imperfections and flaws. At the same time, you must be confident about your personality. Maybe your crush would find your confidence sexy and irresistible.
This is yet another desirable trait in any individual. Show your crush that you are independent and capable of achieving independently. You are capable enough of taking your decisions and standing for what you believe in.
Strong and independent people stand out and always impress others. Your crush might fall for your strong personality.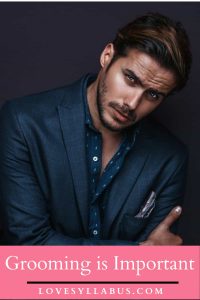 Physical attraction plays a crucial role when trying to impress someone. Yes, you need to accept yourself the way you are but grooming doesn't mean changing your personality.
It is all about taking care of yourself and carrying yourself in a presentable manner. You don't need to go overboard and dress like a celebrity. Choose clothes that accentuate your personality.
Get a haircut, wear nice cologne/ perfume. Keep your hands and feet clean. Hygiene is also a part of grooming. This will definitely make your crush take note of you.
You don't need a perfect body to impress your crush. But staying fit means staying healthy. When you are fit and take care of your body, it shows that you are disciplined and take your health seriously.
If your crush is also a fitness enthusiast, he/ she may find your and motivation for fitness appealing.
Discuss what excites you in life
If you have crossed that staring at each other stage, you should talk to your crush. You must express what excites you in life and talk about your passions. Let them know if you like adventure sports, camping, or traveling.
Talk about your goals and dreams in life. The sparkle in your eyes while talking about your goals will definitely impress your crush.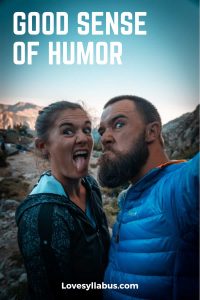 No point in guessing that a good sense of humor is always attractive for people. It is rightly said that laughter is the key to people's hearts. You can crack a joke or share some embarrassing stories with your crush to make them laugh.
Try to keep the atmosphere light and jolly. They would certainly enjoy your company and look forward to spending more time with you.
Show interest in their life
Another way to impress your crush is to ask questions about their life. Ask them about their likes and dislikes, their dreams, goals, and passion in life. This would make them feel that you want to know more about them and find them interesting.
In fact, your crush might appreciate your trait of being a good listener. This can often be the stepping stone of a good and meaningful relationship.
Showing how kind you are can help in impressing your crush. They would love to see how helpful you are to other people. A good heart accompanied by kind gestures always impresses people. This might help your crush connect with you on a different level.
If you have been talking for some time it is time to be direct instead of beating around the bush. Directly ask them if they would like to have a coffee with you. Invite your crush for a road trip or a concert.
If your crush agrees, you will get a chance to discover each other and spend quality time together.
How To Make Your Crush Notice You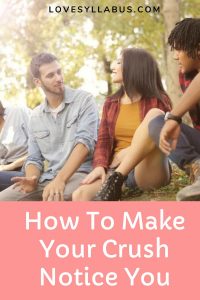 It is not easy to get the attention of your crush. Still, you can't lag behind. You have to be consistent in your efforts to get noticed. So how can you make your crush notice you? Let's find out how:
Physical appearance does matter when it comes to impressing your crush. If you want your crush to take note of you, being physically attractive is the first step. Don't overdo it as simplicity is the best attribute. Be neat, presentable, and accentuate the best part of your personality.
One of the best ways of making someone take a note of you is to smell good. The perfume plays an important role in capturing the attention of your crush. Wear a nice perfume to smell fresh and clean.
In fact, nay times, when people wear a smell for a long time repeatedly, it becomes their signature scent. Don't wear a strong fragrance as it can annoy people around you. But a fresh and subtle fragrance is always loved by people. It may attract your crush as well.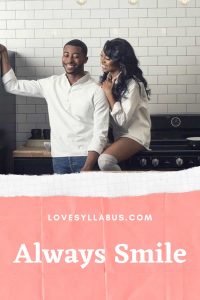 Who doesn't like people with happy and jovial personalities? In this world of stress and pressure, people who can make you laugh are a pure blessing. People are drawn towards someone who can make them laugh and show a brighter side of the world.
The best of doing that is always smiling. You can't underestimate the power of a good smile; it can captivate even strangers. Smiling at your crush will make your crush develop a friendly feeling for you. It can be a good start to the relationship.
Physical attraction plays a vital role in attracting someone. But that is not the only reason for a relationship to last long. You should have something more to offer than what meets the eyes. Show your crush a side of yours where you excel at.
This will make them feel that you are an interesting person. If you are good at art and painting, show them your artwork. If you are good at music or perform in bands, you can invite them for a show of yours.
The foundation step of any relationship is friendship. Instead of trying to date why not first establish a friendship with them. This will give you both a chance to know each other well.
To start a friendship with your crush, you need to ask her about it. Be courageous enough to speak to them to be a part of the same group or organization. Try to be as natural as possible.
Even you are head over heels in love with your crush, don't make it too obvious. Don't disclose everything about yourself unless your crush asks or seeks to know.
Divulging everything about yourself removes the thrill of the initial stage of getting to know each other. Your crush might also look forward to discovering about you. They should feel curious to know more about you.
How To Impress Your Crush Through Chatting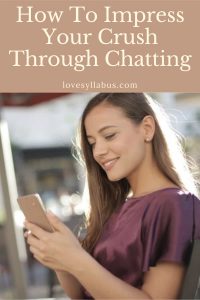 You might have always seen your crush online but are afraid to start the conversation. You feel worried about not getting a reply. And, You might wonder what if you won't say the right thing or run out of topics to talk about.
Flirting with your crush should be exciting and fun instead of a stressful act. All you need is to be familiar with some great flirting skills for chatting online. This will grab their attention and make them smile and laugh.
Don't chat the moment you see them online
You might get excited the moment you see your crush online. But that doesn't mean you start the conversation. Play it cool and show as if you were online for a long and talking to others. Let 5-10 minutes pass before messaging them.
This will make your crush feel that you have other things as well to do online. This will make you appear less clingy or needy. But, don't wait for too long as it will make them feel that you are not interested.
When you greet your crush, start the conversation in a way that your crush wants to spend more time talking to you. Play cool but not too cool. You can say 'How are You' or 'What's Up".
Don't try to be too hard to impress them right from the beginning. You can ask how their day was and narrate something interesting or funny that happened to you. You can also talk about something new that you heard in the news or about a new movie. Try to keep it short and simple.
You must not be the one to start first
It is important to strike a balance. Though he/ she is your crush, you should not come across as desperate. You should not be the one to always send the first message.
There may be a chance that your crush may not be in the mood or eager to talk to you. There may be an exception that your crush is shy. You can start the conversation in that case. But if your relationship goes to the next stage, your crush will expect you to do all the work. This might annoy you after a point.
Once you get to know each other a little better, teasing can be a way of flirting with your crush. You can tease them about them being too workaholic or about their favorite actor or actress.
You can tease them about how their favorite sports team is going to lose that day. But don't take the teasing too far as there is a difference between teasing and poking fun. Show that you can be teased too and you are confident enough to make jokes.
Everyone likes people who are witty and have a good sense of humor. Try to show your quirk and humor to impress them. If they say something clever, reply with something smart immediately. Make a joke about a subject they know well about to show that you are well-read and updated. Being sarcastic can also go a long way.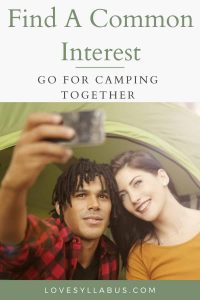 You can get your crush to talk for a long if you both find a common topic of interest. It can be music, movies, camping, politics, hobby or anything else. This will give you both a lot to share and discuss. This would be your opportunity to bond and connect with your crush and spend time with them.
Find ways to tell your crush about what you appreciate in them. This shows you pay attention to their small details. Give compliments in a subtle way to convey that you like them. You can praise their nature, behavior, dressing sense, or achievements. You can also take their advice and show interest in their life.
If you have been chatting for a while and things went well, it is time to ask to hang out. Ask them about their weekend plans. Ask if they would like to go on a coffee with you. If their favorite band is performing, you can ask them to join for the play or concert. If you are throwing a party, invite your crush to join the party.
End Note
These are some simple yet useful ways of impressing your crush. And grabbing the attention of your crush. The idea is to be subtle in your approach without coming across as desperate or clingy. Be yourself and wear your confidence as that is the most attractive trait to impress anyone.
Keep exploring this space for more content on Love, Romance, Relationship Tips, Dating, Love Quotes & Messages, Zodiac Signs Compatibility, and Couple Issues.