When you are in love, you want to be your partner's favorite person. You desire to be their favorite notification and favorite good morning text. It is important that in love you make your partner feel special, valued, and cared for.
Usually, guys are expected to be making all the efforts to make their girlfriends or wives feel valued and special. But guys too love to be at the receiving end of all these sweet surprises and little things. After all, in romance, it is these little things that are going to matter the most. Isn't it?
So are you looking for the most romantic love messages for him, for your partner? You are exactly where you should have been in that case. 
Heartfelt Good Morning Love Messages for Him
Good Morning Messages for Him
The best way to make your boyfriend's or husband's day is to make their start for the day blooming with smiles. Drop them a sweet good morning text before they wake up and make their mornings beautiful. Let them start their day with bright smiles brought to them by your texts. Here are some unique good morning messages for your beloved.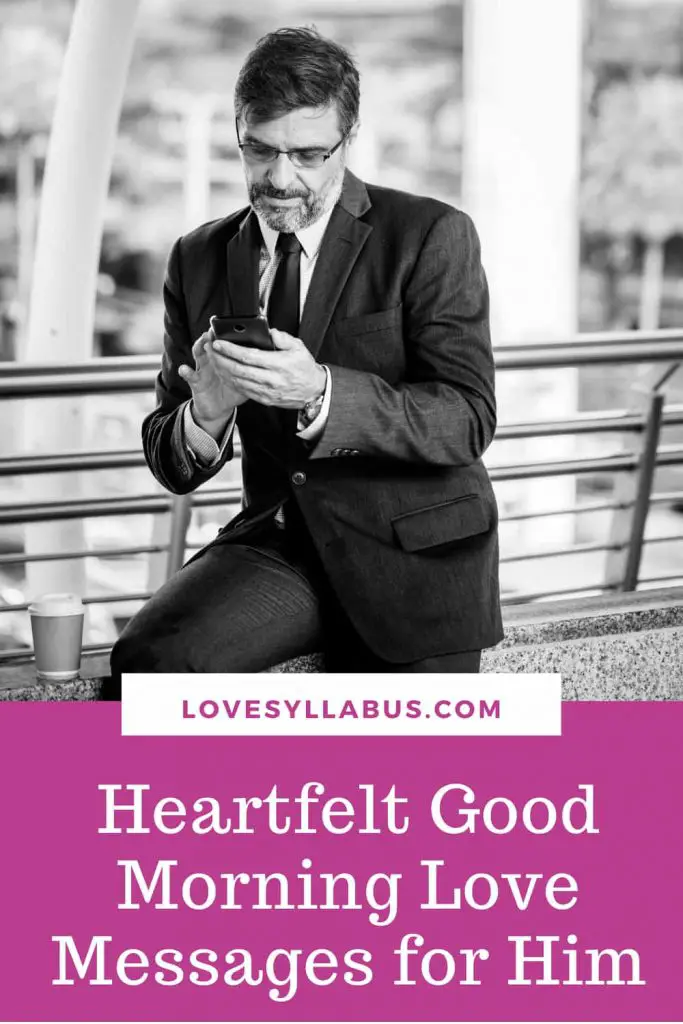 "I wish I could kiss your forehead
To wake you up on this lovely bright morning
I wish I could wake up next to you rather
But till that dream comes true
Here is a virtual kiss to start your day
Rise, shine and slay"
"You have my heart and you know it well
I am counting on you to take care of it
Here's a romantic good morning wish for you
May our love find even more strength in this day fresh and new?
Come back soon in the evening, come back running to me
For me, my day will only start when your smile I will be able to see"
"Good morning to the best life partner one can ask for 
You complete me just like the sun completes this morning"
"Good morning to the best husband in the world
I am missing the charm of having my bed tea next to you"
"Good morning my superman, rise, and shine
You must know that I am amply proud to call you mine"
Good Morning Love Messages From The Heart For Him
"Good morning sweetheart,
Wishing you all the happiness and success on this warm morning"
"Good morning to the one
Who exactly knows how to make my mornings better?"
The mornings no longer seem good without you
Nothing seems pleasant in your absence anymore
If I could, I would fly and reach where you are
Here is a warm good morning wish to the amazing person you are"
"This bright morning looks exactly like the prospects of our togetherness
I wish both of us to have billions of such mornings to spend together"
"Good morning handsome
I will have complaints to make if you don't miss me through your day"
Passionate Love Messages for Husband
Your husband is not just your companion but also a friend and your guiding light. He is also your partner in crime, your motivation, and most importantly he is also your lover. No matter how drastically the world changes, in the times to come, marriage will always have its sanctity.
The idea of two people coming together to spend the rest of their lives together is serene. It will always remain the most romantic bond ever. Here are some texts by which you can make your beloved husband feel loved.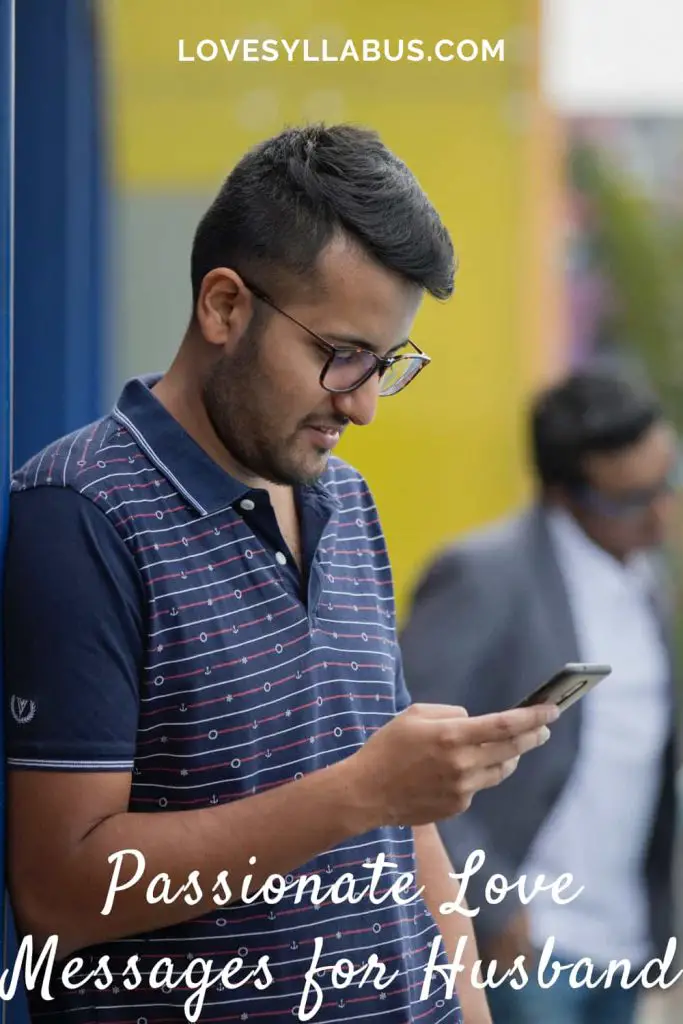 "My love for you is not just about losing my heart to you
My love is also full of gratitude and thankfulness
You have always been my savior and my hero
Whenever you are next to me, I find more joy even in less
I could not have asked for a better companion for life
With ease and with love you take away all my worries and stress"
"Thank you for always being a friend before being a husband
I am amply fortunate to have found the best of both in one person"
"Sometimes I wonder had I not been with someone as caring as you
How will I have faced life with such strength?
I am thankful for heaven for each of those moments
Each of those memories and each of those dreams that together we have spent"
"We met, we fell in love 
We got married, we completed each other 
I still feel as if it is one unrealistic dream
That you are mine and I am yours"
"Our wedding album will turn old someday 
But you will remain my only hero for life"
Long Deep Love Messages for Husband
"Happy anniversary dear better half 
It is amazing how you double my happiness and cut my sorrow into half"
"No one could ever hold me as you do 
No one could play a supportive husband as you do"
"Thank you for giving me exactly the life I have read about in the fairy tales
In each of my births, I will want to only belong to you"
"Marrying you was the second best decision of my life
falling in love with you will always remain the first"'
"You are the centroid of my world
It begins with you and ends at you"
Most Touching I love you Text messages for Him
Tell him how much you love him by expressing your feelings and affections through words. You may not be able to be next to your boyfriend or husband all the time for some reason or the other.
But by a sweet little text, you can make them feel your presence and bring a smile to their face out of nowhere. Here are some heartfelt love messages for him. Love demands to be expressed and felt because many times love remains inside people for they are not able to express it.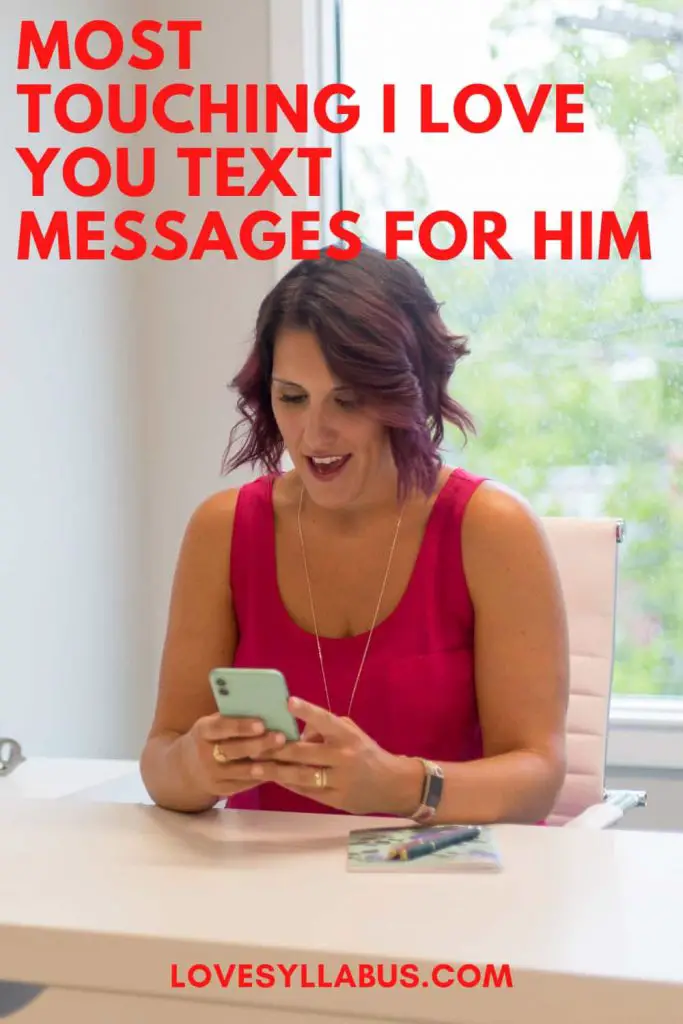 "I do not just love you to the moon and back
I love to the point that fall even beyond the moon"
"My love for you knows no season
No distinction between days and nights
My love for you only knows that I want to spend most of my time with you
With you, I have the strength to turn all the wrongs into rights"
"I love you more than I will ever be able to say
I love you more with each passing day
I would not mind the stars and the moon vanishing from the sky
As long as you stay"
"I feel the warmest when I wear your jacket
Perhaps this is exactly the magic of love they talk about"
"I love like I loved my little dreams as a little child
Even then I would give up everything to not give up on my dreams"
Hot love Messages for Him
"Your love makes me feel stronger
Your love makes me smile for longer
I wish to keep my head on your shoulder and just gaze at the sky
I wish I could do this till the day I die
Sitting beside you my heart beats faster
It sinks every time you say goodbye"
"I love you like you love your favorite football club
I am even crazier for you"
"I love long drives with you, I love morning hikes with you
I love those romantic dates with you, I love to go shopping with you
I love to see time fly away with you, I love how together we can freeze time
I love all the letters you have written to me, I love all your chats and texts
I love your smile, I love your eyes, I love it when your eyes look at me
I love everything about you, I love you more than I could ever love
I love you with all my heart and soul"
"I love it when you sing my favorite song
I love it when you are caught looking at me
I love the way you express your love to me
Maybe I love you a little more than you do"
"I would not have asked for a better love story
In love, I would not have asked for more elation
We complete each other like we were always meant to meet
I love were to be a festival, I would not have asked for a better celebration
The way you love me, the way I love
We could well be an example for the entire world
We could teach the world how to have a smooth relation"
Emotional Love Messages for Boyfriend
Looking for the right emotional love messages to send to your boyfriend or husband? Well, your lookout will surely end here. Emotional connections are the purest of all connections and are no less than assets.
Even in this fast-paced world that finds a lot of convenience in flings and casual dating, emotional bonds still have their charm. In fact, they stand out when it comes to charm. Investing emotionally in someone is a massive life decision and it is difficult to find someone worthy enough.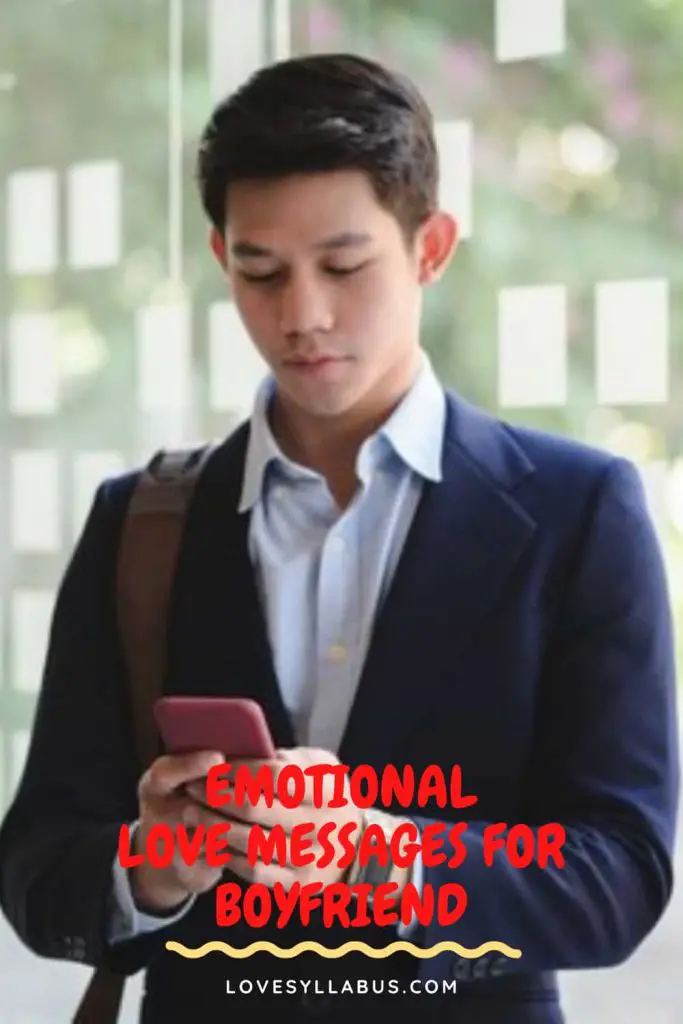 When someone actually turns out to be worthy of your emotional investment, make sure you do not lose that person. Furthermore, make sure you express your happiness and gratitude on regular basis. Tell them often that you are proud to have them. Here are some emotional love messages for him.
"If I ever die, do not ever look back in life
Till I die, I will only and only look at you"
"Even if death breaks us apart someday
I will be brave enough to defeat death to come back to you"
"I have no reasons to believe that I am not fortunate
I'm perhaps the most fortunate lady to have you in my life"
"I want to go places with you
Places that are known for their romance
I want to hold your hand and explore the world
In the middle of the street, I will ask you out for a dance
I am so blessed to have you next to me
You have been perfect for me since day one
Maybe I knew it as soon as I saw you
That no one else but you are the ones"
"I had almost forgotten to smile
Before you came and triggered a caravan of happiness"
Sweet & Caring Love Messages for Boyfriend
"You are very important to me
I may never find the right words to tell you the magnitude of this importance
But ever since I have become so used to your presence in my life
I wonder if I would ever be settled for anything less
For me, you are my perfect tall, dark and handsome
the joy you bring to me is always so immense"
"Who would I be if you were not here
Who would I laugh with, who would I smile for if you were not here
Who would I have these little fights with
Who would I love if you were not here my love
Who would I have these special delights with"
"I have lost all my fears to you
I have lost all my worries to you
I have lost all my apprehensions about you
I have lost all my uncertainties to you
I have lost all of me to all of you in a way
That now if you leave I will lose it all"
"Maybe I will be able to live even without you
maybe I do not wish to live without you"
"I hope you would keep value to your words
After all, your words are all I have to trust"
So, here were some highly intense, romantic, and relationship messages that you were looking for.
Keep watching this space for more content on Love, Romance, Relationship Tips, Dating, and Couple issues.