Not all breakups are bad. Some offer the couple an insight and help in resolving issues. Some couples get back together after a breakup. They realize their mistake and reunite with their ex. They realize that they can't move and get over each other. Separation and distance make their heart grow fonder. They agree to resolve the issues and strike back together. They wish to make the relationship work.
If you have faced a similar situation, there may be so many questions in your mind. Questions about what lies ahead and what the future has in store for you both.
You might wonder if you will feel like before. If everything will get back to normal like before. Will you be able to feel the same level of closeness? You are afraid to not commit the same mistakes over again. You want to make the relationship work this time.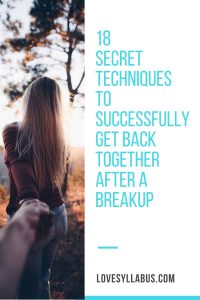 How to Successfully Get Back Together After a Breakup
Getting back together with your ex is common but it's not as smooth as it seems. Both individuals need to examine the issues and rectify them. The reasons for the patch-up should be right. It won't be the same but accept that. Try to form a new relationship altogether.
The first thing that you both need to do is apologize.
When you decide to get back together, it is important to acknowledge mistakes. This helps the other person in healing and giving closure to their hurt. You both should understand your role in the breakup.
The apology must come with a promise to rectify things and changed your behavior. You both must resolve to make it work this time across. There is no place for ego in love. Accept your flaws and work on them for a successful relationship. 
The next step is to discuss and analyze what went wrong.
There is always a reason for the breakup; in fact many! Small issues over the period of time take bigger form and lead to the breakup. Share about what is acceptable to you and what is not.
Talk about what hurt you the last time. It can be financial or communication issues, lack of compatibility, infidelity, or anything else. You can't change someone and their nature. But you can find a mutual and amicable solution for your issues.
Mere apologies and promises without actions won't work. You actually need to work towards rectifying the behavior. Work on things that led to the breakup.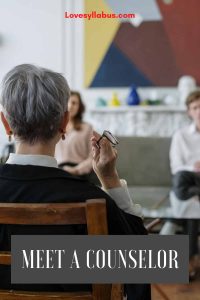 If you are struggling with rectifying your problems, meet a counselor.
Counselors are professionals with a neutral approach. It is better to seek help instead of family and friends. They might have a biased approach. A counselor will always help in reaching a solution that is beneficial for your relationship.
They will find in figuring out issues between you two. A counselor will listen to both parties and their viewpoints patiently. They will offer an unbiased opinion on what needs to be done. Their suggestions will help in creating a successful relationship.
You have gotten together after a separation. Don't try to take things fast. You need to start everything from scratch.
Think that you are dating them all over again. Try to reconnect to them. This will take time. Don't expect too much as it will disappoint you. Don't expect things to be normal from day 1.
You have dealt with pain and hurt. Fostering the bond again will take some time and effort. Don't try too hard. Let things flow at a slow pace. Just enjoy the process and have a positive approach.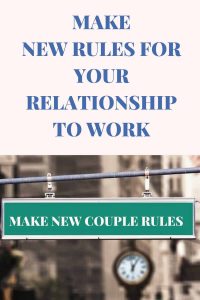 You can make new rules for your relationship to work things out and avoid issues.
You can decide to never take fights to bed. Resolve your fights on the same day and not drag it long. Decide to be vocal about issues instead of sulking and silent treatment.
Decide to hug and kiss each other good night and good morning. Make time for physical intimacy. Go on more dates and long drives. Keep the communication open and so on. This will help in creating a healthy relationship. You won't repeat past mistakes. 
Don't dig past and blame each other
The breakup happened for a reason. You both were hurt and in pain. You must have blamed each other. However, now you have decided to patch up and get together. It's time to heal and move on from the past.
In the process, don't ever dig into the past or blame each other. This will lead to issues and resentment again. You need to forgive and forget to move ahead in life. If you hold on to grudges, your efforts will lack sincerity.
Make efforts as if it is a new relationship
You need to take your relationship as a new one.
Do what you did when you guys started dating. Go on dates and movie nights. Send each other cute and mushy texts. Drop them to at work or pick them up from the grocery store.
Plan weekend getaways and spend quality time together. Give each other time and attention. Talk about how your day went at work. Make plans for the future. Send each other flowers and gifts without any reason.
Dress up to attract and impress each other. You do all of this in a new relationship and you must do it all over again. This is a new beginning for you both. Keep the excitement and passion alive.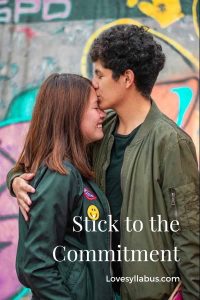 If you decide to get back together, make it a real and lasting one. Don't make it an on-and-off one.
The cyclical relations can be emotionally challenging for you.
The exhaust you and your determination to make it work deteriorates. It also affects people around you like friends and family.
Such relationships can turn toxic over time and affect the bond between the couple.
More open in communication
You need to be more open and direct communication. Talking can resolve many issues. An honest and collaborative approach helps in resolving issues. This is your second time and all things should improve this time.
It is time to make positive changes and begin it with communication. You could have saved your relationship with open communication. Do it this time and make a difference.
In every relationship, one person is assertive and another one is passive. For a healthy relationship, a balanced approach is required. Both partners should take a lead at different times and follow at other times.
One partner should never have all the power in a relationship. This can turn the relationship toxic and one person can dominate another one. This time around build a relationship where both of you have an equal voice. Define the new rules in your new relationship. Inequality can make for a happy relationship.
The breakup causes you both some pain. It drained you emotionally. Yes, don't dig the past, but don't escape. For pain to fade away, you need to accept and face it.
Dealing with pain helps in breaking through the issues which drifted you both apart. Accept the pain and hurt and forgive your partner.
Don't drag the third person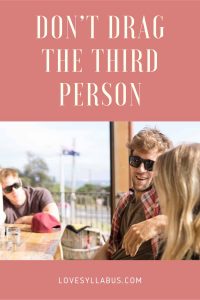 If the breakup happened because of a third person, don't drag them in your present.
Mentioning them is distasteful. Belittling your partner is not the right thing to do. You have decided to get back together and make it work all over again.
There is no need to bring an ex into a discussion.
You both don't live in the past anymore. If you have decided to give it a fresh start, do it wholeheartedly. Insulting your partner will only lead to issues again and again.
Both of you made certain mistakes in the past. You did something that your partner didn't approve of. Or one of you dumped the other person. One of you cheated on your partner.
No matter what the reason, don't judge your partner. Many a time, situations are responsible. It is not fair to judge and tag a person. Stereotyping them is not a rational thing to do. It is a new start so treat him/ her as a new person.
If you begin with presumptions and prejudices, it will affect the reunion. Again, your partner doesn't live in the past anymore. So, make an opinion only based on current actions and efforts.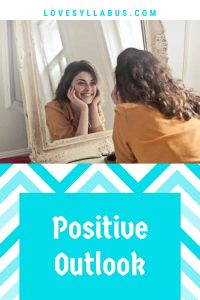 It is important to have a positive approach when you start afresh.
Don't be scared because of past experiences. Don't fear things going wrong the second time across. It is common for couples to fear and feel anxious.
You don't want to feel that hurt and pain again. You don't want to go through a breakup again. But try to relax your mind. Have faith and believe in yourself. Believe in your determination to make it work this time across.
When you are happy and positive from the inside, it reflects in your actions. With a positive outlook, you can infuse positivity into your relationship.
Don't rush into things just for the sake of it or filling an emotional void. Get physical only when you both feel about it organically.
You can think about it after a significant time since the reunion. When both of you have started feeling that love bloom between you. When you both feel attracted and desired by each other. You can say it's time to reconnect physically.
Physical intimacy plays a huge role in any relationship. It brings the couple close and feels loved; thanks to Oxytocin! Especially for a man, it is a way of expressing his love for the woman he loves. Getting naughty between the sheets might help you reconnect on a different tangent.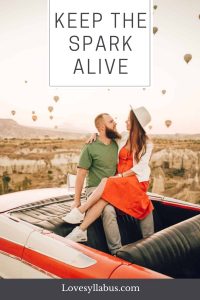 To reconnect again you don't just need to get into bed. You need to do a lot of small things to keep the spark alive.
Steal a kiss from each other and hug each other goodbye.
Send flowers and gifts without any reason.
Go on small vacations.
Do household chores like cooking, cleaning, and gardening together.
Leave notes for each other.
Be expressive about your feelings. Say you love them or miss them. Make each other feel loved and cherished. These small gestures will work wonders in the long run.
Be patient with each other
Resolving issues and rectifying behavior needs time. It doesn't happen in a day. Don't expect miracles overnight. You need to be patient with your partner the way you expect him to be.
You can't jump to good times together just because you have reunited. It will take time to establish the connection again. You may need more time to trust each other again. You might take time to feel close again or get intimate again. Don't get disappointed as both of your efforts will pay. Just give each other some time.
Engage in therapeutic activities
It is important to spend some 'me' time even when you are trying to reunite with your ex. When you give time to yourself and work on yourself, you can be a better partner.
Engaging in therapeutic activities like cooking, painting, drawing, or pursuing hobbies can help. It will help in releasing stress and getting a new perspective.
End Note
These are some tips and suggestions that can help a couple after reuniting. It takes intention and effort to make a relationship work.
It matters all the more when it is your second time around with each other. Being open to communication, being receptive, and accepting can help. It is time to rediscover each other and find lost love.
Cherish the good memories and work towards creating new ones. Give life another chance to surprise you. Keep the spark and passion alive. Value and cherish each other.
Keep exploring this space for more content on Love, Romance, Relationship Tips, Dating, Love Quotes & Messages, Zodiac Signs Compatibility, and Couple Issues.