Having a perfect man is the dream of several women, but it becomes hard to turn the dream into reality. That's true that you can't force anyone to feel the same as you do towards them. But you can try your best to let him develop his feelings towards you. It doesn't matter if you are trying to hook a new guy or you are already seeing the guy. If you want him to get crazy about you, try out these tricks of How to Get a Man want you and get showered by his love.
It's not always an impossible task to get your dream man to want you. This article will help you in this part, and never lose hope of dating your dream guy. I am listing down certain tricks that might help you.
Ways to Get a Guy to Like you
Wanting a guy to like you isn't an easy task. You have to know what he wants and would love about you.
Confident and Sense of Humour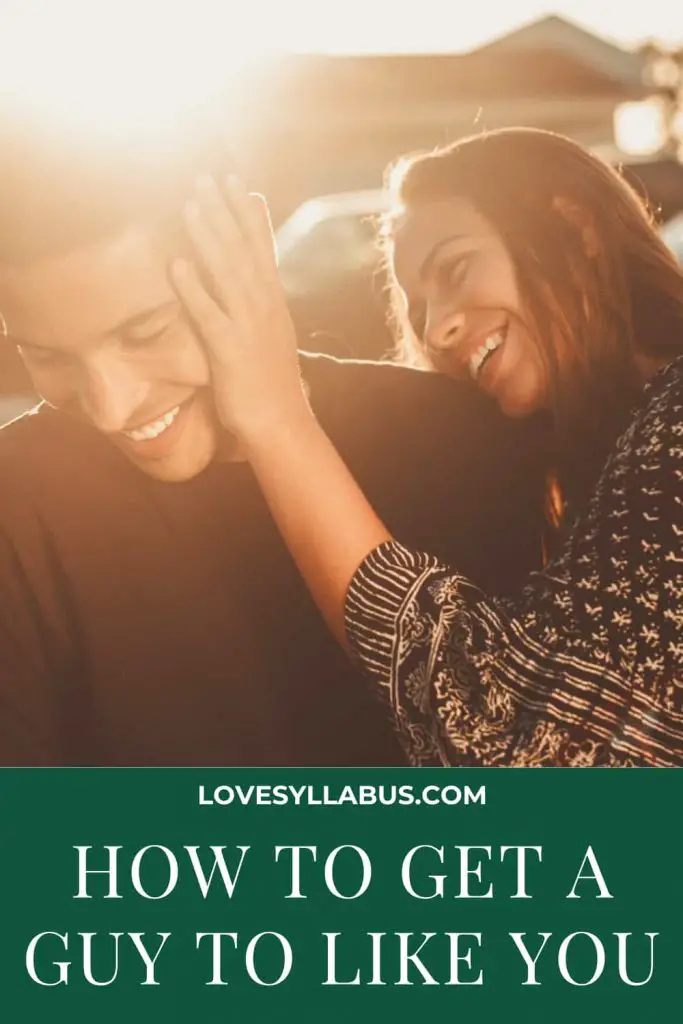 Most guys like the confident girl and who has a great sense of humor. It's quite good to show a guy that you are sweet, secure, and humble at the same time.
An insecure guy will like an insecure girl and try to have control over him. You must come out of your shell and discover how awesome you are before impressing your dream man.
Having a great sense of humor attracts a man, which doesn't mean you act like a fool and laugh all the time. No, you must not work like that but can't be serious all the time too.
You must express your sense of humor in your way and be ready with a good laugh, especially when your crush is around.
Also, you must create your presence in front of him and look your best. You might find that most guys can't start the conversation. So, if you want him to know that you exist, then try to wave at him, saying hi! Or goodbye for a few times.
If he reciprocates, then you indeed have his attention. Also, it's an important thing to let him know you. So, you must introduce yourself first anyhow.
Yeah, you heard it right. Looks attract people no matter what gender is or age. It's not about how beautiful you are, but it's about how you are presenting yourself.
If you are looking best and are confident about it, you'll find many people are attracted to you and staring at you. Most, you must not act fake but try to look your best when you feel your best.
Try to dress in which you are comfortable and would feel confident. Don't try to wear some sort of dress to impress the guy if it's not your usual style. Don't forget to smile.
Also, a little make-up would do fine but do not overdo it. Enhance your smile with a lip balm and open up your eyes with mascara. do what you are comfortable with when he is around.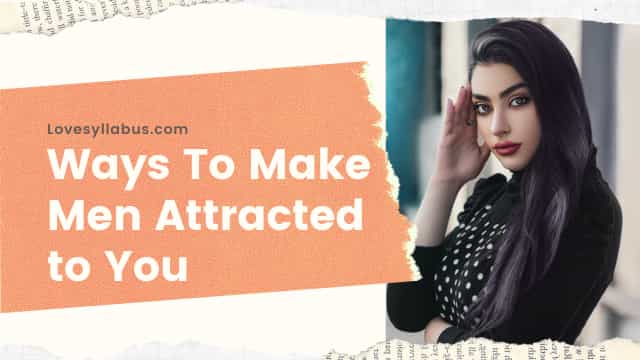 Ways To Make a Man Attracted to You
How to attract a man? There are a lot of ways you can attract the attention of a man towards you. Here are a few tried and tested ways to attract the attention of a man.
Be different from other Woman
If women are trying hard to get their attention, try something different. Show him you are the only option for him. Show both positive and negative sides that most women might hide.
Guys hate girls who usually take several things from them. They might not show, but these characteristics of women are not at all attractive. A man can easily differentiate between a woman wanting their love and a gold digger. They know who cares for them and who just wants something from them.
Try to Know and Understand Him
This could be your plus point if you do it correctly. Try to know him well and get involved in the things that he does. Try to help him or ask him whether he needs any help. Even if you can't help him properly, but he would love to see you making an effort. This might increase your chance to attract him even more.
It's not a secret that guys love to tease women when they show slight possessiveness towards them. But too much possessiveness is not what they like. This way, the guy might feel controlled by the woman.
Many people often make this common mistake by not loving themselves. If you want to get the man of your dreams, it's important to love who you are and attract him. That doesn't mean you'll brag about yourself in front of others.
But you just need to know your worth and love being alone too. For that, you have to look at your self-confidence and build it.  If you find the man of your dreams, that might help you love yourself even more. You might find yourself looking into the mirror several times a day.
Ways to Make a Man Fall in Love With You
If you already like a guy too much and want him to fall in love with you, you wonder how you could make him feel the same for you.
You might know how it feels when the one you love does eye contact with you. You start imagining several things and start dreaming about him. Just like that, if you want to have the guy of your dream, never try to avoid eye contact.
That would make him comfortable with you. Also, doing eye contact, he might know how you feel towards him. I am talking about eye contact.T, which doesn't mean I am asking you to stare at him. No! Never do that, it will make him uncomfortable, and he would try to avoid you.
Be friends with his friends
Guys are all about their friends and love them too much. So, many guys want their girlfriend to get along with their friends. You'll get a significant bonus if you can get his friends to your team. But while doing this, be careful and do not try to flirt with them. If you are really into the guy, never deceive him.
If you want a guy to fall for you, most, you must be hopeful about it. Never lose hope. That can cause many misunderstandings too. While pursuing your love of life, you must stay positive and be confident about yourself.
Do not overdo anything. No one has control over their feelings. Maybe he is interested in you as much you are interested in him. Always stay motivated by the hope, and try to find it out.
We usually want someone to listen to our story, our pain, our liking, and our disliking. So, you must listen to him when he's saying something.
Be serious about the time when he is talking about something serious. Usually, girls talk too much. It's fun, guys love that, but not always. They also want you to listen to them.
That is what some girls don't understand. Guys who are usually silent have a lot to say, but they do not open up to everyone around. If he's sharing something important with you, then you are superior to him.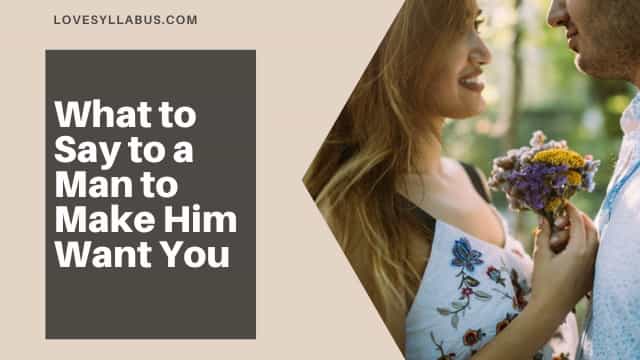 What to Say to a Man to Make him Want You
Understand the emotions of a man if you want him to desire you. Some of the exciting ways to do this are as follows:
There are a few things that you must say, making him feel special and making him do a thing for you. This is something guys would love about you. But you need to ask him to do it for you; otherwise, he might simply get confused and overthink certain things.
Usually, every girl gets several compliments each day. But do you know that guys love compliments too? Also, they love hearing it from someone they like.
Throw a few genuine compliments and wait for the magic to happen. He would become extra loving and extra caring towards you. Words do attract and can change the feelings of anyone at any time.
Show interest in his passion
Everyone loves to talk about the thing that they love, especially about their passion. You have to make a lot of effort to let him know that you love what he does to make him feel connected towards you.
If you express interest, then he would feel too connected to an intimate way with you.  Which means he is totally into you.
Always remember, these things take time. Sometimes, more than anyone could think. If you try to hurry things, it's possible to mess up everything.
Moreover, you can't force someone to have feelings towards you. You must wait for him to say whether he's interested in you or not. Also, do not forget to smile and laugh.
Commitment is something everyone needs in their life. People face many heart-breaking situations. After this, they find it hard to trust people.
Showing commitment towards him is the only way that he is going to respond to your efforts. But, never pressure him into committing. It is wrong unless he wants to do it on his own. Also, avoid doing wrong things that could make him not wanting to be with you.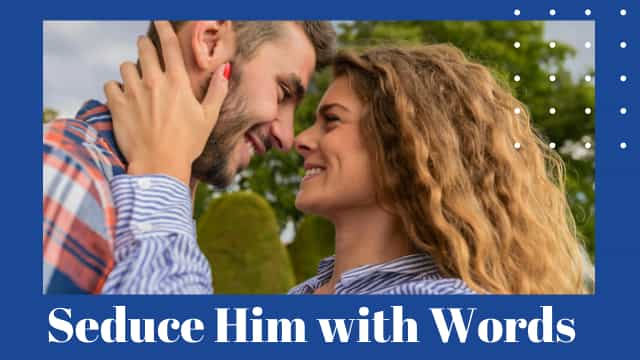 Ways to Seduce a Man with Words
Guys are usually flashy, and you can seduce them without laying a finger if you know the right words and tricks.
You can't find any perfect words or phrases that might trigger your guy. But certain things that interest him turn it to flirt with him. But be tricky in that too. Being too straightforward might mess things up.
Sometimes, you might be guessing right, but it can also be the reason for him to run away. You can try some none aggressive words to flirt that might trigger him.
Don't be afraid to take it to the next level with your words. Words of praise us something different. Although guys love that too, trying to seduce them with words is challenging.
Try to challenge him with the opposite thought that he is thinking about And see how he reciprocates. Also, do not make fun of his thought while trying to do the thing. He might feel insulted, and that would be something different, and you will be looking like a dork there.
Try to be yourself whenever you are with him or talk with him. While seducing with words, if you are anxious or nervous, no need to hide it from him. He might love to see that you are making an effort.
So, it's not a problem to show it to him. And enjoy every moment with him. Guys go crazy and find it sexy when a women smile and have fun. So, do not make faces and tell him you are in a bad mood whenever you are with him.
Seduce him over the phone or via text message
You might find it easy to look sexy to wear a beautiful hot dress in front of him to seduce him than having emotional conversations. But, it is possible to make him fall for you by knowing what you're doing with just words.
Talking to him in a sexy way over the phone and via text messages in a proper way might help. These tricks would only allow you only if you are already friends with him.
End Note
The results are usually unknown. Nobody knows whether someone likes them unless they speak up. So, experimenting and trying things out might help. Try to figure out the best tricks and strategies for you to make your dream man love you. It is also essential to keep in mind that no one is perfect, and there is not a single person who perfectly fits someone.
Keep exploring this space for more content on Love, Romance, Relationship Tips, Dating, Love Quotes & Messages, Zodiac Signs Compatibility, and Couple Issues.