One of the most important aspects of building a strong brand on social media is your Instagram Account. Creating an impactful and interesting Instagram Bio is a must. 
Should you write something funny, or just stick to the facts? What kind of information should you include? And what about hashtags? 
An interesting Instagram bio will get you more followers and engagement. So, how do you create one?
In this post, we'll discuss the components of an effective Instagram bio and show you a few examples to inspire your own unique Instagram bio.
Five Key Components of A Instagram Bio
An Instagram Bio has five key components
Name Section
Niche Statement
Add Your Achievements
Call To action
Link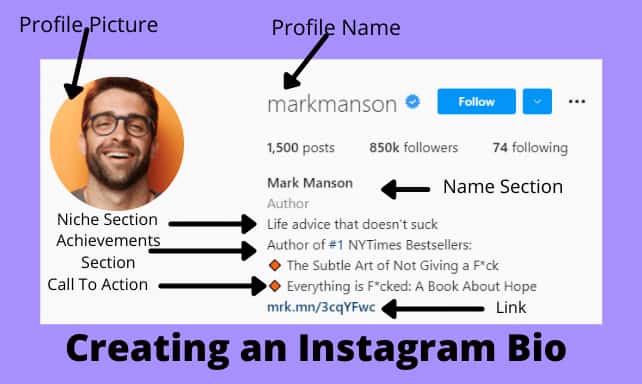 Name Section:
It is one of the crucial parts of the bio where you write the name of your account and importantly you can also add who you are or want to be. Suppose you are a or aspiring to be a digital content creator then this is the place where you will put it.
For Example, You can Write: Youraccountname I Digital Content Creator
This is important from an SEO perspective if somebody is searching for a digital content creator on Instagram then your profile will pop up.
Niche Statement:
This is the section where you target your audience. Here you tell your audience why they would want to follow your profile. Give them the reason why they should follow your profile. Basically, this section tells what value you are going to provide to your audience.
If you are a Photo editor then you can put it like this, "I am a Freelance Photo Editor and I create Mesmerising photo editing at an affordable price."
Add Any of Your achievements:
This part gets crazy if you have any corresponding achievements, records, experience, or anything that could claim your services or offerings. You can add some facts, qualifications, training, or statistics that will want your visitors to trust you and take an action.
For example, if you are a Digital Marketer and You also run a successful Youtube Channel then you can put it like this, I have helped over 80,000 people start their passive income online and I run a successful YouTube channel" Channel Name" with 1,50,000 subscribers.
This has got facts, numbers, some achievements to tell your visitor you are worth following.
Call to Action
Section 4 and 5 are interrelated because your call to action link will come in the 5th and final sections. A Call to action can have buttons to click and visit your website, blog, Youtube, or any other links.
For example, you can write "My Youtube Channel"
Link Section
This is the last and final section where you put the link to your website, blog, social media, Youtube, and any other links.
Tips to Creating an Intersting and Impactful Instagram Bio
Here are the best tips on creating an Interesting and Impactful Instagram Bio for Yourself or your business.
Why the Instagram Bio is Important?
The Instagram bio is the place where you can add your brand name and other information that will help you in managing your profile, and promoting yourself online. It is like the face of your profile if somebody sees your account then the first thing will notice is your bio.
If you are a business person, you need to understand how important it is to use the right hashtag and bio on your account.
Your bio should always include your Website URLs so that people can easily click through Instagram to visit your site. It doesn't have to be a long one-sentence description about what you do or how awesome you are many users find longer descriptions annoying. Just make sure it is short and simple.
Keep it Short and Simple:
Instagram is a social network where users post and share high-quality photos and videos. As you can probably guess, the design of your bio plays a big role in attracting new followers. The bio section of your Instagram profile is one of the most important marketing tools you have at your disposal.
Here's what you should avoid:
1) Never use more than two lines in your bio. People don't read through text unless they want or need to do so. According to a recent study, the best length for an Instagram bio is between 50 and 80 characters, with 73 being the preferred length.
2)But what should you include in your bio? You can add texts, images, icons, and hashtags to your bio. If you want to create a strong first impression for new followers, try including one or more of these recommended hashtags. Consider using our free tool that allows you to search all available hashtags on Instagram!
Adding a Photo to Your Instagram Bio
Adding a photo to your Instagram bio is a great way to make your profile stand out from the crowd. Instagram bios are limited to only 160 characters, which means that you have limited space with which to attract new followers and potential clients.
A picture can be worth a thousand words, and adding a high-quality image to your Instagram bio will help you stand out from the masses. Focus on quality rather than quantity when it comes to adding images to your bio, as this will increase conversions and improve overall engagement rates.
Importance of Hashtags in an Instagram Bio
Hashtags have been used on Instagram since the platform's inception. Hashtags are a big part of what makes Instagram so successful as a social media platform. They allow users to connect and easily find the content they're interested in.
Using hashtags properly can help you get higher engagement, more follower interaction, and more exposure for your account – but using them incorrectly can also hinder your results. 
A hashtag in Instagram bio will add value to your post and increase the reach of your post through hashtags, which help people to find you on social media. Hashtags are the best way to get more likes and comments on Instagram.
Be Creative while Creating your Bio:
If you want something different from others then do something different than others. This is the only way you can stand out from others. Write a bio that best describes you yet is Interesting, engaging, and makes a lasting impression on the visitors. 
Create Visual Content for your bio
If you are creating a company profile or personal bio on social media, you can tie your bio together with visual content. Visual content is an excellent way to stand out from the pack and help potential customers connect with you. It's also a great way to give your followers something new that they haven't seen before.
Here are some tips for how to create visual content for your bio:
Use videos – If you have a product, service, or message that would be better communicated through video, then go ahead and use it in your profile! Videos will grab the attention of visitors.
Visual content is the present and the future of digital media. It's what people want to see when they land on your page, and it gets shared more than any other kind of content. If you're not seeing results in your traffic or engagement by creating visual content for your bio, then you aren't doing it right.
The key to creating great visual content that will boost blog traffic is to make sure that every single one of them has a clear call-to-action (CTA). People are much more likely to take action if there is an immediate benefit for them associated with their requirements.
Things to avoid in an Instagram Bio
The bio section of your Instagram account is a prime place for you to show off your personality and share a bit more about yourself. It's also a great opportunity for you to connect with people on an even deeper level if done correctly.
But that doesn't mean that everyone uses them effectively. There are a few things that many Instagram users put in their bios that end up hurting their chances of getting followers instead of boosting it.
Don't Write any Hatred Things
Do not write in favor or against any Political party
Avoid using Fancy texts, make them readable
Copying other People's Bios vs Creating Your Own
It is always better to create your unique bio rather than copying someone elses' bio. Everyone and every business are unique so create your own value proposition and create an interesting Instagram Bio for yourself.
Wrapping Up
The key to a good Instagram bio is ensuring that it's interesting, descriptive, and short enough for users to read and understand. You can use tools like Hemingway App to check the readability of your bio before publishing it online. If you have any questions about creating an effective Instagram bio, feel free to comment below!